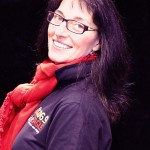 1) I grew up in Ho-Ho-Kus, New Jersey and after bouncing around the east coast I landed in Frederick, Maryland where I have lived for the past 15 years.
2) I am married to a wonderful man named Troy and together we have two amazing children. We also have an adopted member of the family, a terrier mix named Angel.
3) My favorite 106.9 classic hit artists are Madonna, Peter Gabriel, Journey and Genesis. I am a huge fan of HGTV – my favorite show is Fixer-Upper. But what I really love is to be moving. I love walking and hiking and when I can't get outside, I am on the treadmill or elliptical.  I also love to sing….. in the shower, at karaoke…you name it. Thankfully, I  get my fix every Sunday participating in church choir.
4) I have recently created a unique way to give back to our community through a real passion of mine – Interior Decorating. I do consultations to help with furniture selections, floor plans, color schemes, and overall design.  In exchange, I ask that you make a donation to a local non/not-for-profit organization.
5) My love for radio started back in 1990 doing a mid day on air shift at my college station.  After an internship at WOR Radio 710AM, New York's Heritage station …..I was hooked.  I have done everything in the broadcast industry from traffic, news and talk shows on the radio side to reporter/news anchor and commercial talent on the TV side.  I am thrilled to now be a part of the Early Birds morning show here on 106.9 the Eagle.
Please feel free to send me a message at dina@1069theeagle.com