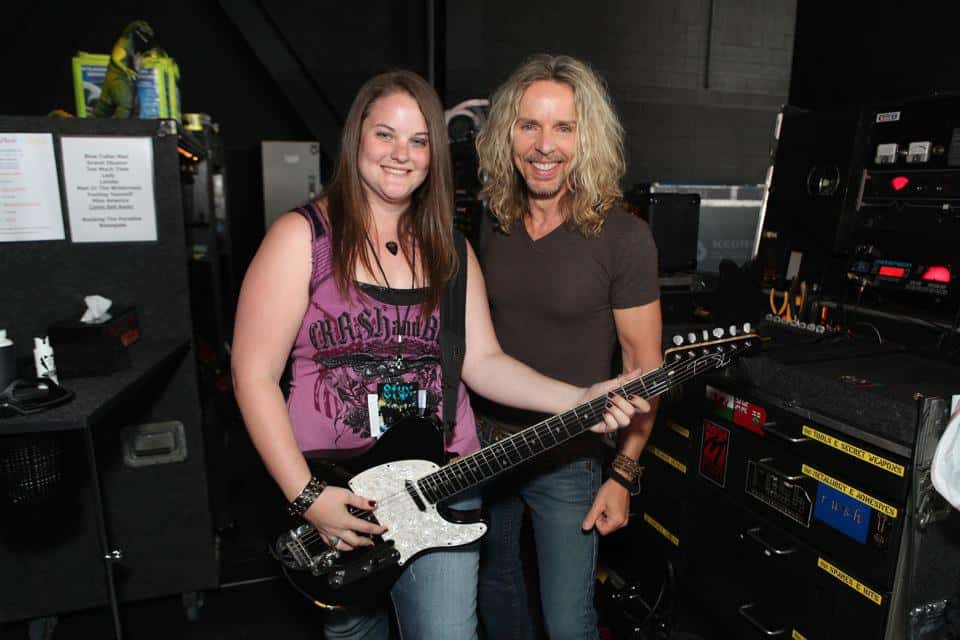 Thanks for spending your weekends with 106.9 The Eagle!
1.) I've lived in Hagerstown, MD all of my life so I guess I'm a true Hagerstonian.
2.) I have a popular Pomeranian named Chewie… He has more friends than I do on facebook and at his favorite pet store, it's just like Cheers when he walks in the door. He's super smart and knows all sorts of tricks.
3.) My favorite Eagle artist is STYX!!!! In fact, they're my favorite band of all time and I have seen them 24 times and counting (yes, that's me with Tommy Shaw in the picture!!). I also love Alice Cooper, our hometown boys KIX, Genesis, Atlanta Rhythm Section, Kiss, Santana and Bad Company although my list could go on and on…
4.) I love Penn State for college football and The Miami Dolphins are my NFL team. I've been a fan of the Dolphins since I was 5 or 6.
5.) When it comes to movies, I love comedies like Zoolander, Stepbrothers, Blades of Glory and Beetlejuice but the movie I have seen the most is The Rocky Horror Picture Show! Let there be lips! On TV, I am a big fan of I Love Lucy and Quantum Leap but I do watch new tv shows like The Goldbergs, Modern Family and American Horror Story.
6.) When I'm not working, I go to tons and tons of concerts! I have a going list of all of the bands I've seen and it covers an entire page in 4 columns. I also take drum lessons and am hoping to be in a Styx cover band some day! Domo Arigato, Mr. Roboto! I also love to travel and see the world!