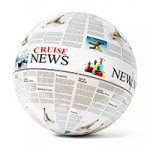 Cruise News is brought to you Monday through Friday by
Dunkin Donuts!
Enjoy a New Iced Tea Latte from Dunkin Donuts While Your host, Dave Cruise, reports on the oddest news stories from around the globe
weekdays at 3:50 pm and 6:50 pm.
You could win a $25 Dunkin Donut's gift card just by registering below. Each Friday Dave will select one lucky winner at random.
You're Welcome!