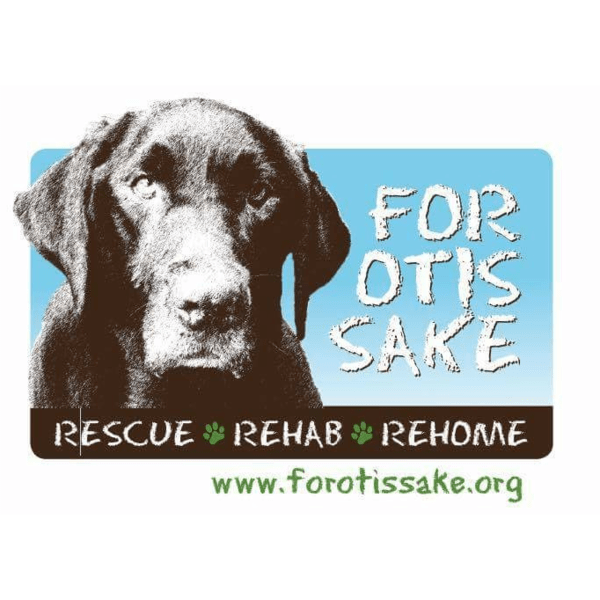 Adoptable Dogs of the Week!
Ophelia
English Bulldog and Australian Shepherd Mix
Puppy, Female, Medium
Coat Length – Short
Health – vaccinations are up-to-date, special needs.  Ophelia is both blind and deaf and will require continued training and support (provided by the rescue).
Good in a home with – other dogs.
We are pleased to introduce you to our newest FOS addition, Ophelia (aka Ophie). She is 10 weeks old and acts just like any other puppy her age. The only difference? She cannot see or hear. She is one of the Perfectly Imperfects – our favorite kind of dog.
Ophelia is currently in training to learn all the basic skills a puppy needs to know – just in a slightly different way. We use touch, vibrations and smells in our training and interactions with Ophie. She is learning quickly and growing like a weed. Based on our knowledge of her past, we believe her to be a Bulldog/Aussie mix.
We are currently searching for a Foster Family and/or Adopter for Ophie. The ideal candidate will be within a reasonable distance from Hagerstown MD to continue her training. While Ophelia is a gorgeous and smoosh-able tiny puppy right now – she will grow. Her ideal forever family must be serious and committed to her training. While it may be novel to own a puppy with special needs, the commitment to her is for life. If you are interested in Ophelia as either a Foster Family or an Adopter, please send us a private message on FB or an email to forotissake@gmail.com. After a preliminary Q&A, you will be invited to apply to foster/adopt. We welcome any and all questions!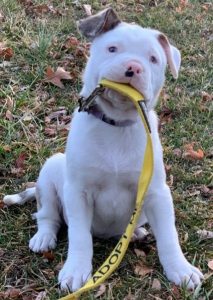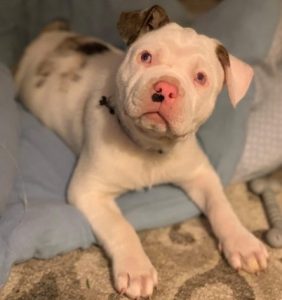 Dino
Dino is 6.5 years old with the energy of a puppy, slightly needy but abandonment will do that to a dog.  He is an escape artist so leash walking or privacy fence is best and he is an active dog.  He LOVES his green, fuzzy, squeaky tennis ball. A runner, someone that enjoys long hikes or an active family with patience to help him adjust and trust are his ideal adopters.
Dino has lived with children and other dogs in his previous life, although smaller dogs may be an issue so proper introductions would be needed. He is working with a trainer, learning to trust people again and preparing himself for a family that will truly be his forever.  Dino will need someone patient, someone willing to continue with his training and someone with a sense of humor.  He is entertaining, loves his toys and prefers to be close to his people!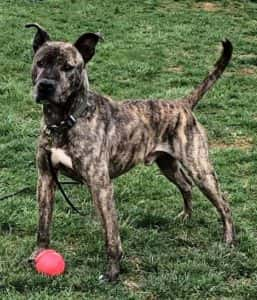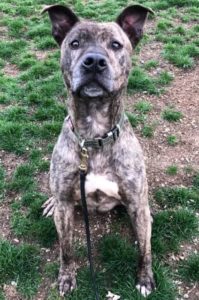 For more information on adopting these sweet pups, check out For Otis Sake's website @ https://forotissake.org. There is info on all of the dogs that are available, how to become a foster pawrent and more about the rescue and how you can help!
Foster pawrents are in high demand! For Otis Sake is looking for people to provide a temporary safe haven for dogs looking for their forever home. All supplies, food and vet visits are covered by For Otis Sake. You would be providing a love, attention and a safe space for a dog in need. With 100's of requests a week to save pets from their situations, being a foster can be the first step to a dog's new life!
Ready to sign up and help? Complete the foster application today at https://forotissake.org/foster
The mission of For Otis Sake Rescue Groups, Inc. is to rescue, rehab and re-home at risk dogs that have been pulled from under-funded and overcrowded shelters and animal control facilities across the United States.  We are a foster only organization currently with no facility.  Donations and money raised through our fundraising activities are used to cover veterinary and training expenses as well as  basic care for our rescued animals as we prepare them for their adoptive families.