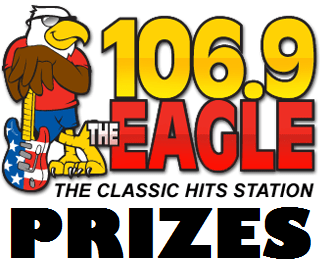 Call in for your special chance to win great prizes!
Want a chance to win some great prizes? Every day we're giving away fantastic prizes during each of our live on-air shows! Our prizes change weekly, so be sure to tune in to 106.9 the Eagle and call in to the studio request line for your shot to win big!
Prizes for the Week of September 28th through October 2nd:
Sponsored by MD Lottery
Play the Maryland Lottery's Money Bags scratch off game, with a top prize of $1,000! Go to mdlottery.com/scratch-offs for details on this fun ticket and the other Multiplier Family of games! The Maryland Lottery, let yourself play!
New today on Digital: Antoine Olivier Pilon with Jim Gaffigan and Josh Hartnett star in the gripping crime thriller MOST WANTED! Inspired by a true story, an investigative journalist fights to expose the twisted truth behind a heroin bust orchestrated by dirty cops to frame an innocent man – sentencing him to life in a Thai prison. Own MOST WANTED today on Digital and Blu-ray. Directed by Daniel Roby. Rated R. From Paramount Pictures.
---
**Prizes will be mailed