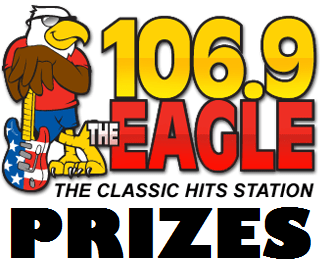 Call in for your special chance to win great prizes!
Want a chance to win some great prizes? Every day we're giving away fantastic prizes during each of our live on-air shows! Our prizes change weekly, so be sure to tune in to 106.9 the Eagle and call in to the studio request line for your shot to win big!
Prizes for the Week of January 25th through January 29th:
Go to Giantfood.com to enjoy a streamlined online shopping experience with even more benefits! Shop the site with 100% shoppable ads and coupons, order convenient and contactless Giant Pickup or Giant Delivers – earn and redeem Flexible Rewards points to save on groceries and gas, get free items, or all three. No matter how you shop, you'll love Giantfood.com.
---
Sponsored by MD Lottery
Play the Maryland Lottery's Cash on the Spot scratch off game, with a top prize of $1,000! Go to mdlottery.com/scratch-offs for details on this fun ticket and the other Multiplier Family of games! The Maryland Lottery, let yourself play!
The movie Our Friend is only on limited screens and is showing now plus many other films. Theatres are available for rental for private showings – you can select from a huge list of the retro movies.
---
**Prizes will be mailed