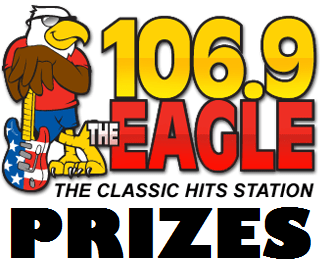 Call in for your special chance to win great prizes!
Want a chance to win some great prizes? Every day we're giving away fantastic prizes during each of our live on-air shows! Our prizes change weekly, so be sure to tune in to 106.9 the Eagle and call in to the studio request line for your shot to win big!
Prizes for the Week of January 18th through January 22nd:
At a time when demand for online grocery is at an all-time high, Giant is making it easier than ever to safely and efficiently browse aisles, fill virtual grocery cards, plan ahead for an in-store trip and schedule a contactless Giant Pickup or Giant Delivers order, so you can get back to the moments that matter most. Go to Giantfood.com for details!
---
New today on Digital and On Demand: Gary Dourdan, Andy Garcia, Serinda Swan and Martin Donovan star in the action-packed war thriller REDEMPTION DAY. When the wife of a decorated U.S. Marine Captain (played by Dourdan) is kidnapped by a terrorist group in Morocco, he is forced back into action for a daring and deadly operation to save the woman he loves. Buy or rent REDEMPTION DAY and watch it tonight! Rated R. From Paramount Pictures.
---
**Prizes will be mailed