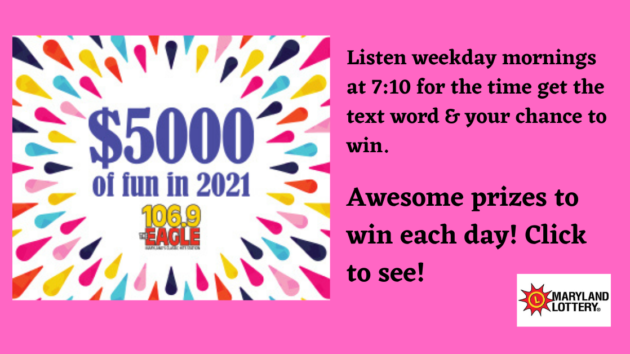 Hey, we know 2020 kinda stunk! So we're here to make 2021 a GREAT year by giving you a chance to win $5,000 cash.
Now that spring is here…how about some much needed FUN?! 106.9 The EAGLE is giving You a chance at winning free Spring Cash!
It's the $5,000 of FUN in 2021! Every weekday, 106.9 The EAGLE announces a winning "TEXT-Word" for you to TEXT in to get qualified to win $5,000 in Cash! You'll also get qualified for the daily prize including Maryland Lottery tickets.
Winners will get a great prize pack!
(prizes subject to change without notice)
Prizes the week of 4/12:
Prizes the week of 4/19:
The Jack Diamond Morning Show will even tell you the exact time the Winning "TEXT-Word" will be announced weekday mornings at 7:10!
Text line – 800.222.1069
Brought to you by The Maryland Lottery, let yourself play
By texting, you agree to future texts. Contest rules.