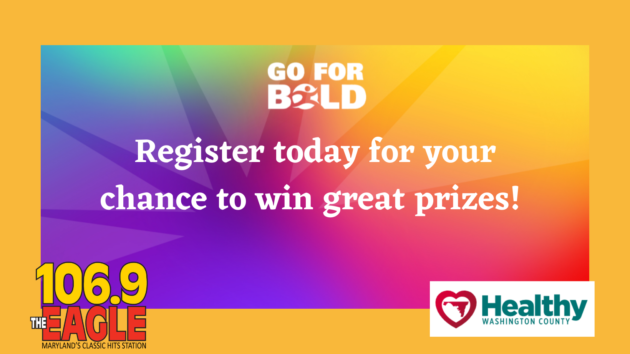 TODAY'S THE DAY YOU CAN GO FOR BOLD! THE MOVEMENT IS DEDICATED TO A HEALTHIER WASHINGTON COUNTY!
TEXT THE WORD BOLD TO 800-222-1069…YOU'LL GET A LINK TO HEALTHY WASHINGTON COUNTY.COM.
CLICK THE GET STARTED BUTTON TO REGISTER AND JOIN THE GO FOR BOLD PROMO TEAM!
NOW YOU'RE ELIGIBLE FOR WEEKLY PRIZES INCLUDING $100 VISA GIFT CARDS!
PLUS YOU'RE ELIGIBLE FOR THE GRAND PRIZE WORTH OVER $2000! IT INCLUDES A FULL FAMILY MEMBERSHIP TO THE HAGERSTOWN YMCA, A FANTASTIC BIKE FROM HUB CITY CYLES AND $500 CASH!!
SO TEXT BOLD TODAY TO 800-222-1069 AND GO FOR BOLD!